Hai hai!~ Blogwalking and found this. Macam tacing2 je kan.. Tsk tsk. Sebenarnya dah merata2 dah benda ni, jadi donno how to cite. Who is the real writer pon I tak tahu la. Sangat misteri~ Nak kata I yang buat ofcourse la nampak sangat menipu. Hehehe ;p


Disaat kamu ingin melepaskan seseorang
ingatlah pada saat kamu ingin mendapatkannya

Disaat kamu mulai tidak mencintainya
ingatlah saat pertama kamu jatuh cinta padanya

Disaat kamu mulai bosan dengannya
ingatlah selalu saat terindah bersamanya

Disaat kamu ingin menduakannya
bayangkan jika dia selalu setia

Saat kamu ingin membohonginya
ingatlah disaat dia jujur padamu

Maka kamu akan merasakan arti dia untukmu
Jangan sampai disaat dia sudah tidak disisimu,
Kamu baru menyadari semua arti dirinya untukmu

Yang indah hanya sementara
Yang abadi adalah kenangan
Yang ikhlas hanya dari hati
Yang tulus hanya dari sanubari

Tidak mudah mencari yang hilang
Tidak mudah mengejar impian

Namun yg lebih susah mempertahankan yg ada
Karena walaupun tergenggam bisa terlepas juga
Ingatlah pada pepatah,

"Jika kamu tidak memiliki apa yang kamu sukai, maka sukailah apa yang kamu miliki saat ini"



Belajar menerima apa adanya dan berpikir positif
Hidup bagaikan mimpi, seindah apapun,
begitu bangun semuanya sirna tak berbekas
Rumah mewah bagai istana, harta benda yang tak terhitung, kedudukan, dan jabatan yg luar biasa, namun..

Ketika nafas terakhir tiba, sebatang jarum pun tak bisa dibawa pergi
Sehelai benang pun tak bisa dimiliki
Apalagi yang mau diperebutkan
Apalagi yang mau disombongkan

Maka jalanilah hidup ini dengan keinsafan nurani
Jangan terlalu perhitungan
Jangan hanya mau menang sendiri
Jangan suka sakiti sesama apalagi terhadap mereka yang berjasa bagi kita
Belajarlah tiada hari tanpa kasih
Selalu berlapang dada dan mengalah
Hidup ceria, bebas leluasa

Tak ada yang tak bisa di ikhlaskan
Tak ada sakit hati yang tak bisa dimaafkan
Tak ada dendam yang tak bisa terhapus.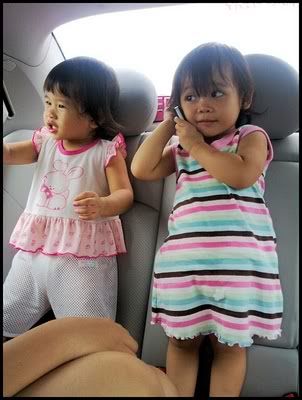 Jadi kanak2 jugak best. Macam innocent je gitu, takde masalah, happy je selalu. Orang yang tengok pon boleh jadi happy ;)